Solution for the Alarm Blipper working range Problem ?
Carl , Sweden . Message to the MG Cars BBS on 1/10/1999 15:36
Hi all !
This is going to be a long thread about blipper system for our beloved "F".
For receiver I will use "RX" and for transmitter "TX".
The keyholder contains the TX circuit and after doing some measurements on my 3TXA the following was found:
TX frequency. 433,895 MHz .
Modulation : Amplitude mod , (AM).
Output power at module before modulator : Approx. 1,5 mW at 3,1 Volt battery .
Type of antenna : Printed circuit loop tuneable with aid of small soldered adjustable pin.
All in all output spectrum and power at distance of 10 meters measured with L/4- whip at spectrum analyser showed fair enough signal to be accepted of a not too deaf RX !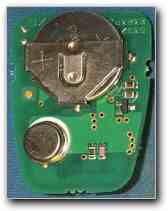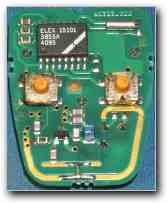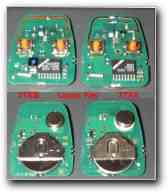 So what is the problem then?? Well, as stated some time ago in another thread
- to make a small decent TX isnīt that big deal
- to make a good RX that works in todays polluted frequency spectrum is another story !
Without having taken the RX apart (yet) I can bet that it is a simple so called "superregenerative" receiver - known to radio amateurs as the infamous "rushbox".
This is a cost effective way of solving the RX problem but it also generates a few problems;

DESENSING: Nearby transmitters (not necessary spot on our frequency ) will make a not so good RX more deaf to wanted signals. This means we have to decrease distance to get any action at all.
PULLING: The nature of superreg. makes it fine for AM signals but if another signal off freq. is stronger this will make the RX "lock" onto this signal and further decrease in distance is needed.
SELECTIVITY : This is the costly thing, superreg. is bad news here.
FREQ: OFFSET : As RX and TX may have different temperatures we can have diff. in freq. This is today to some extent solved by the "SAW-resonator. At least the TX has a SAW.
ANTENNAS: For the "bliper" there isnīt much of a choise, size demand small antenna and then for cost reasons printed circuit board loop resonator is the thing to go for. At RX end there is of course more space and normally the antennas on other manufact. are situated as free as possible. In outer mirror casing is one often used spot. In our case the yellow quarter-wave cable under dash is a bit displaced for optimunm reception ,even worse so when coiled together with all other cables !
So summing up I think that the main problem lies in the RX. Maybe a thin coaxial cable from the box and putting the antenna in a better place will give improvements , but this has to be found out. I will take a look at the RX this winter as car is on stands , my range is around 3-5 meters with straight RX-antenna - so not that impressed..... Regards , Carl.
REPLACEMENT PART
a replacementkit is availiable for that high value part. I think its interesting for you (one of the oldest MGF) too: YWX101010 - repair kit for the remote blipper. It contents the both casing? (housing) halfs and the rubber button thing.
YWX101070L is the same part at Land Rover.(LR YWX101220 433 MHz complete blipper)
(c) Carl G. B. Sweden, translated by Dieter Koennecke 02.10.99