Release immediate MGF
December 11, 2001
PRECAUTIONARY SAFETY RECALL NOTIFICATION
A total of 7,010 MGFs, produced for the UK between September 2000 and September 2001, are being recalled over a concern associated with the possible non-specified deployment of the seat belt pre-tensioners.
Owners of models in the affected VIN range are being informed by letter today and are requested to contact their local MG Rover dealership who will arrange for the remedial work, to be carried out, free of charge.
The recall has been organised in accordance with the 'Code of Practice' concerning vehicle safety issues drawn up by the Vehicle Inspectorate and the Society of Motor Manufacturers and Traders
---
. Additional information from the UK, dated December, 10th 2001
Page No1 sent to all related car Owners
Page No2 of the document
VIN range .D522572 to .D533176 (looks mad cause it's the 74999th)
All the problem is only a wire behind the left hand closing panel of the
centre console rubbing
So if it is not damaged you put plastic convoluted tubing (part No YMQ 002020) over the main loom that runs nearest the metal
heater control mounting.
Obviously they introduced the new designed harness in September 2001, but mixed the installation already to some earlier VINs. Also some of the cars in stock were reworked already.
So if you like, then check for:
- pink or green splash/dot on the label at the RH harness loom leading to the RH headlamp. This is the left if you open the bonnet and stand in front of the car. There is a code label attached near the headlamp which could carry already this dot as mark for carried out isolation works according to the recall paper.
- if there is no green or pink dot then check the date code on the harness label.
If it is earlier than 21.08.01 then the new designed better isolated harness is already in.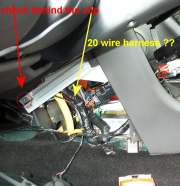 20-wire harness can get hurt behind the clip (circled red)