Principals explained at the ECU Main Relais diagram
This small copy of the MEMs wiring explains the rear located main relay, located under the ECU and the brown-pink wire which leads the delayed power signal to several actuators of the car. i.e to the purge valve.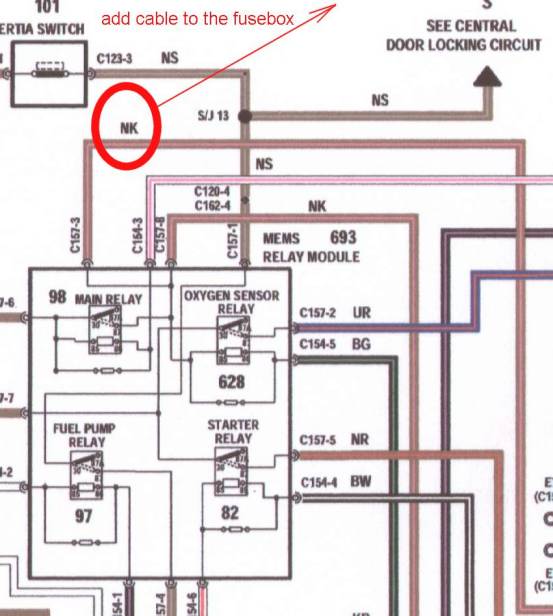 How to find the brown-pink anywhere for both versions




Overview picture

(left hand arrow shows the position of the mainrelais connector, if the simple no aircon version

ECU connector


or here at the purge valve

Location samples for the brown/pink delay signal wire. At the Purge valve is the most easy to find location which is recommended to be connected with a bypass crimp connector
Getting the Power delay signal from rear to the front of the car
4.1 Option for cars if an NO aircondition is installed .
It is possible on cars with NO installed aircondition to use an existing cable between the footwell and the MEMS ECU unit. This makes work much easier because no new long cable needs to be fitted. You only need to make a short connection from the brown-pink to the following not use cable at the connector behind the ECU.

Locate the needed cable as follows at the rear:
When looking at ECU units left side you will see a black connector fastened to the black bracket which holds the ECU at th rear panel. Find the Blue Yellow wire. It has no connection on the right side of the connector, if no aircon is installed. This wire leads to the front under the dash board area to the not used but at each MGF existing white coloured multi connector for the aircon. We use this wire as substitute for the in other case to lead new long wire. you can cut it or use a bypass crimp connector to add a bypass wire to the brown-pink wire of the ECU.
Attach a connector or bypass and cable which is long enough to reach the thin Brown Pink cable on the purge valve. This one is located slightly to the right of the MEMS ECU unit. It is a black plastic container with several hoses . On its top is a electric valve and 2 cables.
One Yellow Orange and the other is our wanted Brown Pink.
Locate the cable as follows at the front:
LHD cars Near the window lift relay at extreme left you will find a loose white coloured multi connector . This connector is supposed to go to the relaybox for the aircondition if fitted. Check the cables for the Blue Yellow. You can cut this wire or add a bypass crimp connector and wire of about 30cm lenght for the further works.
RHD cars you will find a loose white coloured multi connector at the co-Drivers side, just near the upper hinge of the door behind the footwell carpet. This connector is supposed to go to the relaybox for the aircondition if fitted. Check the cables for the Blue Yellow. You can cut this wire or add a bypass crimp connector and wire of about 1.50 m lenght for the further works. You need to lead this wire to the drivers side where you find the window lift relay is at extreme right.
[Thnx fly to Paul Lane who gave this additional instruction for RHD cars !! :) ]

Jump to 5. and leave out 4.2 if you have no aircon