---

Availiable at Mike Satur and other companies. Also
directly from the manufacturer Powerflex.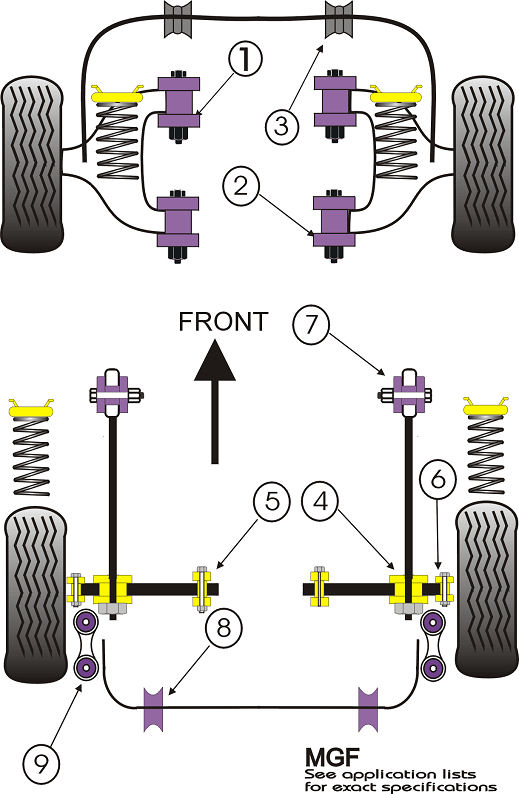 Picture courtesy Powerflex
MGF
BUSH DESCRIPTION
PART NUMBER
DRAWING NUMBER
PART REF ON DRAWING
SIZE
RETAIL PRICE
FRONT WISHBONE FRONT BUSH (FRONT) (SMALL) (EACH)
PFF42-211
42/MGF
1
12.95
FRONT WISHBONE REAR BUSH (EACH) (LARGE)(EACH)
PFF42-212
42/MGF
2
12.95
FRONT ANTI-ROLL BAR INNER MOUNT (EACH)
PFF42-215
42/MGF
3
19mm
9.95
REAR OUTER TCA/TIE BAR BUSH (EACH)
PFR42-219
42/MGF
4
19.95
REAR INNER TRACK CONTROL ARM BUSH (EACH)
PFR42-220
42/MGF
5
16.95
REAR OUTER HUB MOUNTING BUSH (EACH)
PFR42-221
42/MGF
6
15.95
REAR TIE BAR TO CHASSIS BUSH (EACH)
PFR42-222
42/MGF
7
12.95
REAR ANTI ROLL BAR BUSH (EACH)
PFR42-225
42/MGF
8
18mm
9.95
Rear Anti Roll Bar Link Bush
4 per car (each)
PFR42-226
9
6.95
http://www.motorsportworld.co.uk (UK sales only) :(
http://www.tecno2.com

Or, try at
Germany
Fritz Motorsport,
Fritz Schmidt (ehemals Richter Motorsport)
info@fritz-motorsport.de
Dorfstr. 8a
34477 Twistetal,
Tel. 05695/991167 Fax 991168
FORD RICHTER
WARBURGER STR 51,
34246 VELLMAR
Tel: (+49) 561 9828331
Fax: (+49) 561 9828386
E-mail: richter-motorsport@t-online.de
Web: www.motorsport-richter.de

Noch ein Lieferant, Superflex tut das gleiche

SALES DEPARTMENT SUHE HAUPTSRASSE 34, GORWIHL. D79733 Tel: (+49) 7754 92090 Fax: (+49) 7754 920915 Contact: MR ULI STOLL or ANNETTE
Austria
POINTINGER AUTOSPORTTECHNIK Friedr. Lintnerpl. 5, 3003 GABLITZ Tel: (+43) 2231 61141 Fax: (+43) 2231 63541 E-mail: office@pointinger.com Web: www.pointinger.com Contact: JOSEF POINTINGER
Kit for Subframe side of the rear tie bar #7
Notice the steel support shafts
Kit for the wishbone side of the rear tie bar. #4
Notice the mold in steel support shafts.
Alternative, Compliance washers as installed to MGF Cup Cars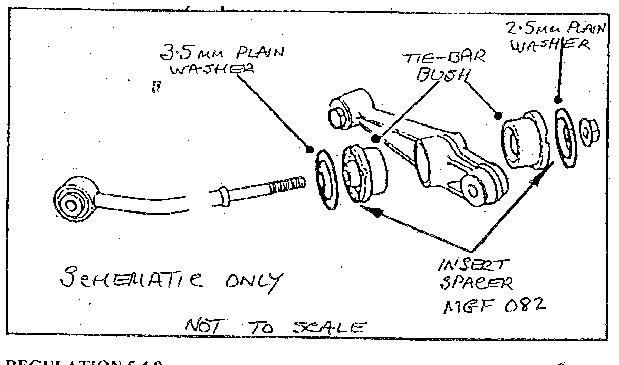 Picture courtesy John Thomas
back or to my MGF home site www.MGFcar.de