Terms of the chassis measurement
---
Toe-out angle
The toe-out angle enters the angle position of the circle-internal wheel to the circle-outside wheel with a driving along curves. The measurement effected standard in accordance with with a reciprocal steering angle of 20°, enters over mechanical or electronic turning supports.
Steering element geometry is in such a way designed that the angle position of the front wheels changes with increasing steering angle. A troublefree driving along curves results only, if in each steering wheel position all four wheel axles run by the route card rice focal point. Otherwise erasing and Quiet the tire occur in close curves.
The toe-out angle informs about the mode of operation of the guidance trapezoid, with correct functioning must equal large values in the case of left and right-hand turn arise.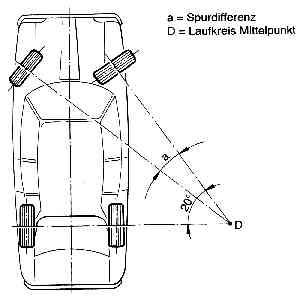 Toe-out angle, measured over 20°steering turn routine, for the evaluation of the function of the guidance trapezoid
---
Homepage | Technique | German version |
---
© known source write to D.K.