MGF Alternator Belt Adjustment
See as well Alternator refference

Author, Branko from Australia, written to the MG Cars BBS
Direction is clockwise:
Start from top of crankshaft pully, then under tensioner pully, then up and over alternator pully, then down and under aircon compressor pully and then to underside of crankshaft pully then to the top where you started.
This next bit may be information overload, but here goes anyway,
ALTERNATOR DRIVE BELT - WITH AIR CONDITIONING - ADJUST
To Check:
1. Disconnect battery earth lead.
2. Raise rear of vehicle. WARNING: Support on safety stands.
3. Remove road wheel(s).
4. Remove 2 scrivets and screw securing closing panel. (Notice, the screw usually will break)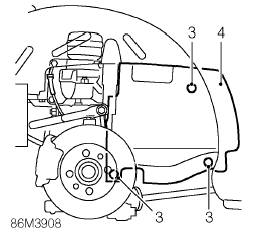 5. Remove closing panel.
6. Check condition of drive belt. Renew a drive belt that shows signs of wear and splitting.
7. Apply a force of 10 kg to the drive belt between crankshaft pully and aircompressor pully, at position directly under and inline with the idler pully. Measure the deflection between the crankshaft pulley and air conditioning compressor pulley. Deflection must be 9 - 10 mm.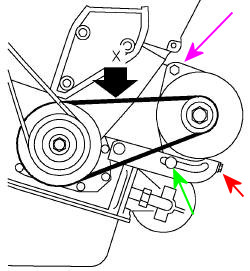 << Notice, this image is from a none aircon short belt (5PK736)
Adjust:
1. Loosen nut securing drive belt, tensioner pulley.
2. Increase drive belt tension by turning the tension adjusting bolt clockwise. (red arrow)
3. Tighten drive belt tensioner pulley securing nut to 25 Nm.
4. Recheck drive belt tension.
5. Fit closing panel and secure with fixings.
6. Fit road wheel(s) and tighten nuts to correct torque. (100Nm for 16" and 70Nm for 15" rims)
7. Remove stand(s) and lower vehicle.
8. Connect battery earth lead.
Hope this helps.
Branko

These belts will fit aswell at cars with A/C. The Original 1200mm belt may be quite expensive at some shops.
5PK1193
5PK1200 (orig)
5PK1205
5PK1210